---
ASU gives up on email
Appalachian recently decided to put its incoming students' email on gmail, having concluded they could not reliably actually deliver email in a timely manner. The only exception to their delivery problems has been the regular delivery of messages phishing for account names and passwords.

In a related move security is being upgraded so that the only thing you will actually be able to do is run Windows Updates and antivirus scans. Also, you will be required to change your password every 90 seconds. "The Auditors" say we have to do it.

With apologies to Scott Adams...
---
ASU revisits Department Plans
Apparently not having enough to do even as it is yet again revising its core curriculum, ASU is requesting Departments to rewrite their plans to be in compliance with the University mission statement. All of this material will then be filed and never looked at until we do it again. Meanwhile, Assistant VC Haney will continue to work on the revision of the Gen Ed requirements, otherwise known as the Unfunded Mandate.
On a perhaps related note, we noticed that a search for Mr. Haney on ASU's web site lists him as "Provost & Exe VC Academic Affa" (this cut and pasted right from the site. Hmmm... a coup forming here?)
To further confuse us the new Director of Advising and Orientation is Dr. Maria Provost.
I couldn't have made that last one up.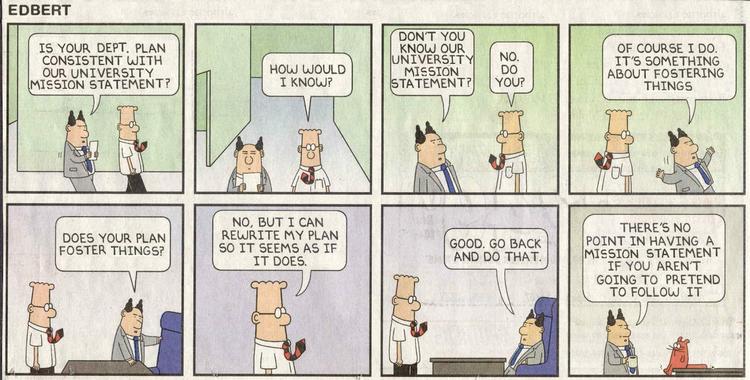 With apologies to Scott Adams...
---
ASU smoking ban blows.
Caving in to committee members who smoke, the smoking policy ended up restricting smoking to beyond 50 feet of buildings.
Given the keen awareness of distances by ASU students you can expect students to smoke within 5 feet of doorways. Oh, what's an order of magnitude?
---
ASU Manages by Matrix
A policy of rewarding enrollment growth based on spreadsheet results is producing unpredictable results.
Those close to Provost (??) S. Shellgameman report that he will figure this out, given enough time. Interim Arts and Sciences Dean Tawny Calamari will help.
Or not.

Tawny Calamari



With apologies to Scott Adams...
---
This site is not an official voice of Appalachian State University, but merely a light-hearted look at the news. The people, places, creatures, corporations, and institutions in this Seen are fictitious: any resemblance to actual people, places, creatures, corporations, or institutions is strictly coincidental. No animals, especially administrators, were harmed in its production.