---
Campus Elevator Plan keeps the important people in mind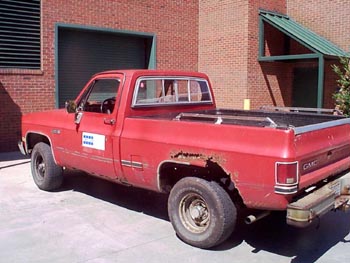 Ever wonder why the elevators are always breaking down in the CAP science building? The Schindler brand elevators, even at their best, are clunky and slow, and at their worst sometimes drop scarily at the end of travel, or stop between floors, trapping passengers until rescue. We tried to find out the story but could never seem to find the repairman, "Stitches" N. Tyme, when his truck is around.
Hmmm... check out that truck! Maybe there is a hint there? Could it be that a truck is a sign of the quality of the repair service?We could test the theory by comparing, say, another repair truck. The heating system in CAP works a good bit better than the elevators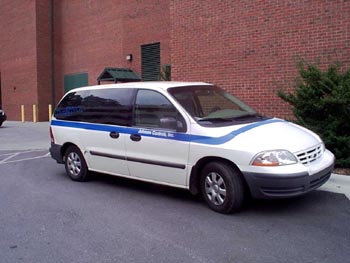 Well, let's take a look at the Johnson Controls repairman's 'ride'--hmm, looks about the same as the elevator guy's, right? Well, maybe it is a little bit better.
You know, you do not always "get what you pay for," but you almost always don't get what you don't pay for!
And, what about the new elevator in the Administration building, the one used by our Chancellor and his dozens of Ass. VC's?
Oh, it's an Otis (you know--the guys that invented elevators). 'Nuff said?