---
ASU Abandons SACS to Join Newly Formed Accreditation Group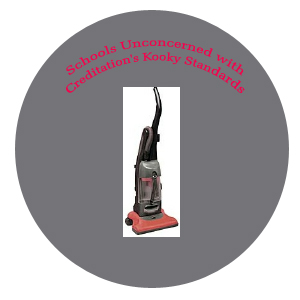 Appalachian decided to withdraw from the Southern Association of Colleges and Schools and join the newly formed Schools Unconcerned with Creditation's Kooky Standards. This means we will save thousands of person-hours per year by not preparing for an endless cycle of meaningless reviews, whose reports are swiftly forgotten. Instead, we will spend the same time actually improving our teaching.
---

With apologies to Scott Adams...
---
Physical Plant Increases its Hourly Charges

Not satisfied with doubling its hourly rates, Physical Plant has increased them again, to $100,000/man-hour. Combined with sending three times the number of workers actually needed for a job, this means they only need one or two jobs to cover their budget.
---
Administration Uses Sting Operation to Downsize

Looking for a way to identify staff with too much time on their hands, ASU held a sting operation in the guise of a "Printing and Publications Open House" last year. Offering many door prizes caused those with nothing better to do to sign up as they entered. The emailed list of awardees included almost 50 names. Firings have commenced.
---
This site is not an official voice of Appalachian State University, but merely a light-hearted look at the news. The people, places, creatures, corporations, and institutions in this Seen are fictitious: any resemblance to actual people, places, creatures, corporations, or institutions is strictly coincidental. No animals, especially administrators, were harmed in its production.