---
Alumni Development System to Migrate to Banner
The management of the data base on our graduates is being moved to the Banner software system. Banner has been such a tremendous success and smooth transition for the financial records system that it was a no-brainer to move the ADS. Literally.

With apologies to Scott Adams...
---
New Administrator Getting a Grip on Toilet Paper Problem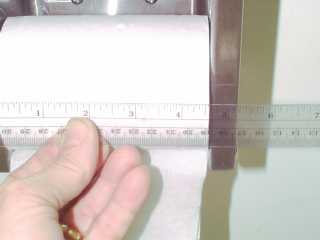 In order to save money the administration made a sweet deal on toilet paper that is slightly too long, causing its use to be a two-handed affair. Some faculty and staff are reportedly driving home to use their toilet because it is actually faster and easier than pulling paper off the binding rolls at ASU. In response to the issue, the administration has taken its usual tactic of creating a new cabinet position to deal with the problem. The new Ass. V.C. of Concerns Regarding A Paper Problem is onto the problem already. Speaking via his secretary from his spacious suite, Dr. I. P. Freely said that we will simply remove the restrooms since the staff is driving home now anyway.
---
Will Paper Towel Dispenser Replacement Set New Record in New Library?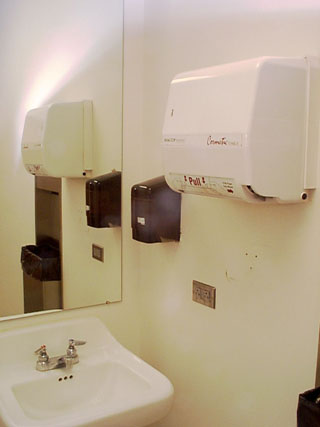 Library staff are excited to see how soon after they move into their new building that the paper towel dispensers will be replaced with ugly new ones like the one shown at right in the second floor faculty/staff restroom in CAP. Geez--you could lose your right shoulder while trying to use the sink!
Administration officials said they have to change paper towel vendors every year at the whim of state contracts, forcing new dispensers to be added. For the soap dispensers it is about the same--the scars due to the first one being pried off are visible in the image at right, as well. "We can't actually just find a product we like and stay with it," said the V.C. who wished to remain anonymous. "In fact, we make it a point to strive for a paper towel that actually does not absorb any water at all, saving money since nobody will actually try to use the towels."
It was noted that the restrooms in the Administration building each have two (yes, 2), matching paper towel dispensers.
---
Newly Announced Program So Obscurely Described Nobody can Figure Out What it Is

The newly announced workshop, "Parakeet Pedagogy and Writing: The Syllabus and Assignments," has baffled all who received the email announcement. We at the Seen have no clue what issues of parakeetness have anything to do with a curriculum. Program coordinator Perry Keeter explained that many teaching activities have subtle effects that target parakeets. See the first issue of the Seen for a story on related concerns.
---
Park Place Dining Facility Takes Diet Control to a New Extreme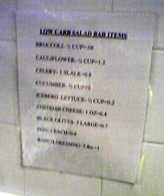 Feeling that a rabbit-food salad meal was not drastic enough to cut weight, Food Services has now added a listing of low-carb items found in the salad bar. Their next plan is to offer a water bar, with special listings of low-carb water entrees for those really trying to cut back. For another viewpoint on the low-carb fad, see Tom's Rants at BooneRestaurants.com
---