Back to High Country Outdoor Lighting Ordinances and Codes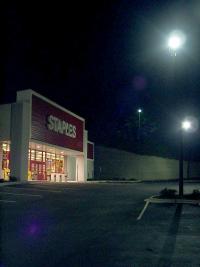 The Watauga County Zoning Ordinance Study Committee approved a Lighting Standard for High-Impact developments at its 11/29/01 meeting. The standard will require large businesses (like the Staples shown here, although this one is in the town limits of Boone), to use good lighting instead of the cheap, glaring and light-polluting floods used at the store shown. The text of the Standard is given below.
Watauga County Lighting Standards for high-impact development, are given below. Click here for the (pdf version) of the whole development ordinance.
C. Outdoor Lighting Standards
In order to ensure lighting that is safe, secure and not glaring to either the facility's employees or customers, or neighbors, High Impact Land Uses shall use outdoor lighting that does not produce light that trespasses on adjacent property, roadways or pollutes the natural sky. These objectives are easily accomplished by choosing good quality, shielded fixtures. Therefore:
(1) All parking lot lighting shall use full cutoff lighting fixtures;
(2) Wall-packs and floodlights shall be either full cutoff design or have shields such that they do not put any light above the horizon and will be mounted to not shine on roadways and neighboring properties. Use of floodlights is discouraged;
(3) Typical pole-mounted "dusk-to-dawn" security lights shall use reflecting "sky caps" instead of clear plastic refractors;
(4) Building façade lighting shall not shine above the facades; and
(5) For buildings required by the NC Building Code to have plans prepared by a design professional, the lighting levels shall be determined as defined by the Recommended Practices of the Illuminating Engineering Society of North America, or other recognized lighting publication. All other buildings comply with the requirement by virtue of compliance with (1) through (4) of this section.